Title Insurance in Pennsylvania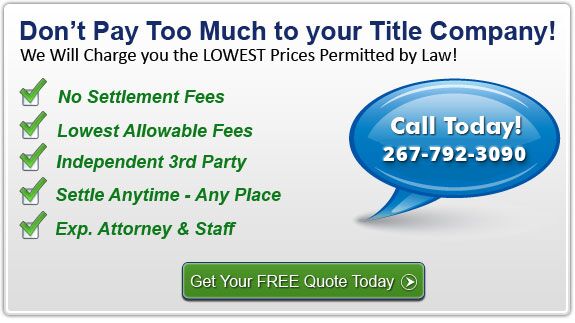 Whether you are a lender or a real estate buyer, defects in a property's title can create huge problems in any real estate transaction. You could end up being responsible for paying back taxes or other prior liens in order to clear the properties title and if the problems are chain related you may even lose ownership rights.; A title search may not reveal all these issues before you close a transaction. That's why you need to find a reliable title insurance company any time you acquire real estate.
World Wide Land Transfer is a full-service Pennsylvania title insurance company and we can help you with the coverage you need for your next real estate transaction. We provide title and escrow services for buyers and lenders in Pennsylvania and all over the country, so get in touch with us if you need a title insurance quote or any of other title insurance services in Philadelphia.
Services We Provide
What is Title Insurance & Why Do I Need It?
A title policy is a type of indemnity insurance designed to protect lenders and homebuyers from sustaining financial losses due to property title defects. Lenders typically require you to obtain title insurance for their benefit but it is optional for homebuyers. If you think you can go without owner's title insurance, think again. There is no telling what issues may come up during a real estate transaction; that is why you need to protect yourself by speaking with a title agent at World Wide Land Transfer today. Whether you need a lender's policy or owner's title insurance in Montgomery County, PA, we will be happy to assist you.
How Much Does Title Insurance Cost in PA?
If you are interested in finding out more about title insurance rates, the best thing to do is speak with a title insurance company. Title insurance rates can vary from state to state, and they may be higher depending on the price of the property you are purchasing. Moreover, some companies charge excessive fees on top of the state mandated amounts. We as hard working Pennsylvania Title Insurance experts only charge the Commonwealth of Pennsylvania's promulgated amounts for title insurance. Essentially the lowest fees permitted by law. Since title insurance rates are based on the purchase price, we cannot give you an accurate title insurance quote here; however, a PA title insurance agent from our team would be interested in learning more about your specific real estate transaction to give you an accurate title insurance quote. We can help you find a title insurance policy in Chester County, PA, or anywhere else in the country.
Contact Us Today for a Title Insurance Quote!
At World Wide Land Transfer, we make it simple for you to obtain a title policy in Pennsylvania and anywhere else nationwide. We are a title company in Bucks County, PA, but we work with clients all across America. Contact us today to find out the latest title insurance rates in Pennsylvania or for any other title services you may need.